Towards a diverse and inclusive digital world
Mar 30 2023 / Posted in Women empowerment
---
- By Subham Mohapatra, Co-ordinator, Programme Documentation, SNEHA
Technology has the potential to reach where 'no man has reached before'. With our quest to explore other planets in our solar system, one would believe that there is hardly anything out of our grasp. Coming down to Earth though, we know there is still so much work to do.
The 21st century has seen rapid growth in technological advancements and the evolution of digital media has accelerated in the post-pandemic world. Yet, it is not enough to build software, social media, websites and payment gateways, we have to ensure equitable access for everyone to these tools. In this highly gendered world, even access to digital platforms can become a power struggle that women and girls go through as they navigate the challenges posed by the environment that they live in.
Conceptualised by the United Nations (UN), the theme for this International Women's Day 2023 was "Digit All: Embrace equity" with an aim to celebrate the innovation and technological change and education in the digital age for achieving gender equality and the empowerment of all women and girls in the alignment of the prioritised theme of 67th Session of the Commission on the Status of Women (CSW-67).
According to India's National Family Health Survey (NFHS)-5 (2019-2021)[1], only 54% of Indian women have a mobile phone that they themselves use while in states like Maharashtra; it's only about 55%.
Another qualitative study conducted covering the women in the low-income marginalised pockets of six different states by Dvara Research[2] in 2021 to map the accessibility and usage of mobile phones by women; states that only 50% of study respondents use mobile phones for financial transactions using different apps like PayTM, Phone Pay, Google Pay, etc while 57% of women use mobile phones for watching videos on youtube and other short video streaming platforms.
Closer home, a survey conducted by SNEHA's Monitoring and Evaluation team among women respondents in 15-49 years of age, in their intervention areas in Mumbai (December 2021 - January 2022) found that 52% of women-owned a phone and mostly used them for making phone calls, SMS and Whatsapp messages and forwards.
Being a non-profit working on public health, women and children have always been at the centre of SNEHA's behavioural change work with an aim towards achieving Health Equity. Our different programmes have collectively not only just focused on catering to maternal and child health but rather looking beyond to create an impact on the entire life cycle of women. To nurture a people-centric approach, we've involved our partners and volunteers to get into the grass-root, experience the intervention and talk about the diversified scope and importance of digital adoption for social security, financial inclusion, addressing health needs, knowledge and skill acquisition, and how it can comprehensively add value to the regular life cycle of women.
We celebrate International Women's Day every year with our community members, volunteers and on-ground teams to create awareness about gender rights, building capacity and knowledge about civic engagement by using a gender-responsive approach to innovation, technology and digital education.
This year, we embarked on a series where we celebrated the moments with pregnant and lactating women, women healthcare volunteers, healthcare providers and outreach workers from seven Municipal Corporations (Thane Municipal Corporation, Brihanmumbai Municipal Corporation, Vasai-Virar Municipal Corporation, Kalyan-Dombivli Municipal Corporation, Mira-Bhayandar Municipal Corporation, Ulhasnagar Municipal Corporation, Bhiwandi-Nizampur Municipal Corporation); where they used the platform to voice out about self-care, self-worth and compassion while embracing femininity and equity.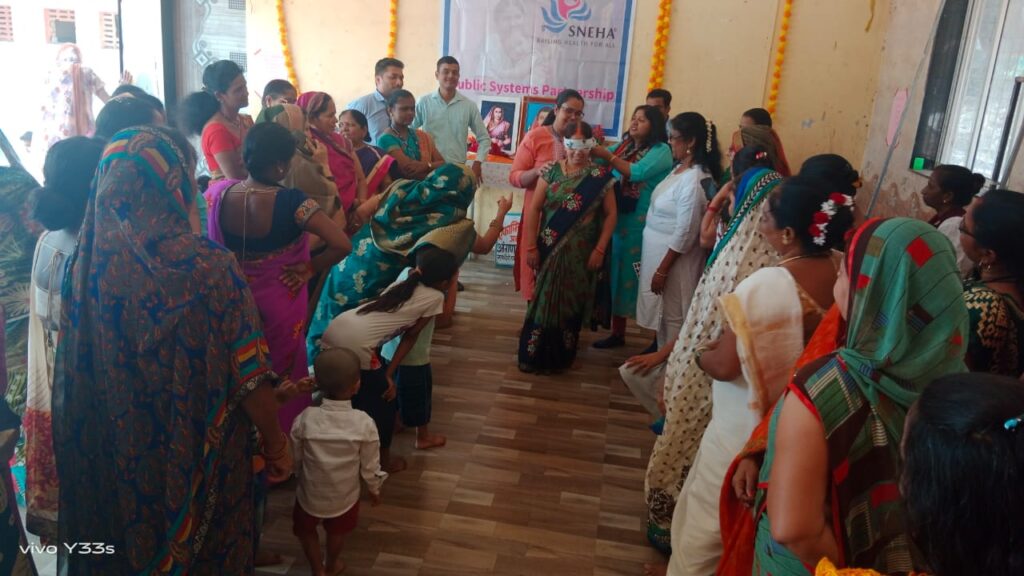 We created a platform for women in Bhiwandi (Thane) to share their inhibitions while using technology (internet, mobile phones etc.). While women expressed their anxiety to use the internet for fear of being misled or data breach, they felt that technology made it easier to pay bills and receive information about ration, the best schools and colleges in the vicinity and Government facilities. We also organised puppet shows and quiz contests on the importance of mobile phones and how to make the best use of them.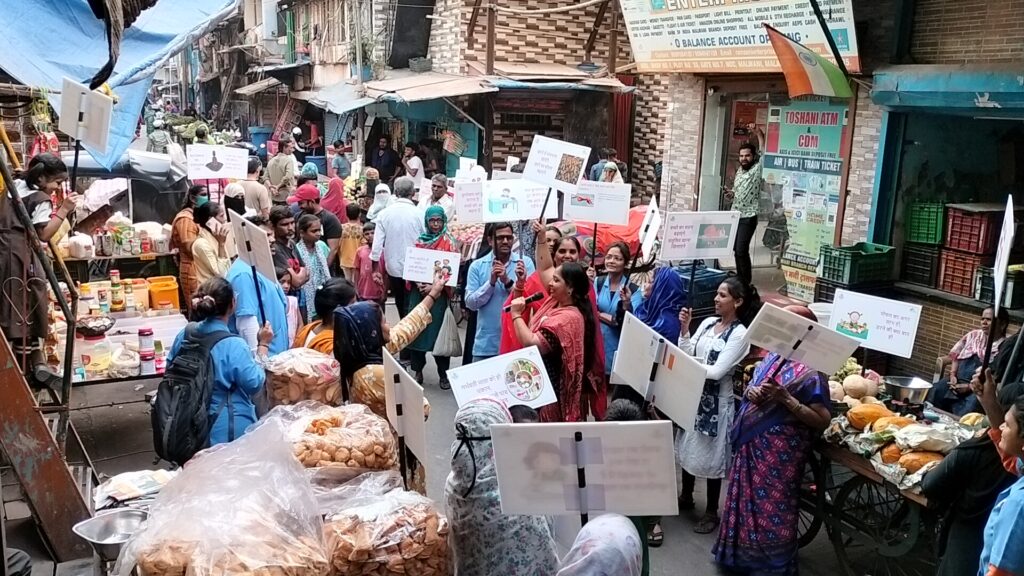 Our Swasthya Sahelis (women community volunteers) from Malwani, Malad (Mumbai) decided to lead the fight against the consumption of junk food through street plays, discussions with community members, raising slogans and singing songs to create awareness and promoting appropriate nutritional behaviours for improved health outcomes for women and children.
In Dharavi (Mumbai) our community volunteers put up stalls to create awareness on anaemia, malnutrition, social protection schemes, non-communicable diseases like tuberculosis, Integrated Child Development Schemes, post office schemes, our Nurse Aide training programmes and Palliative Care.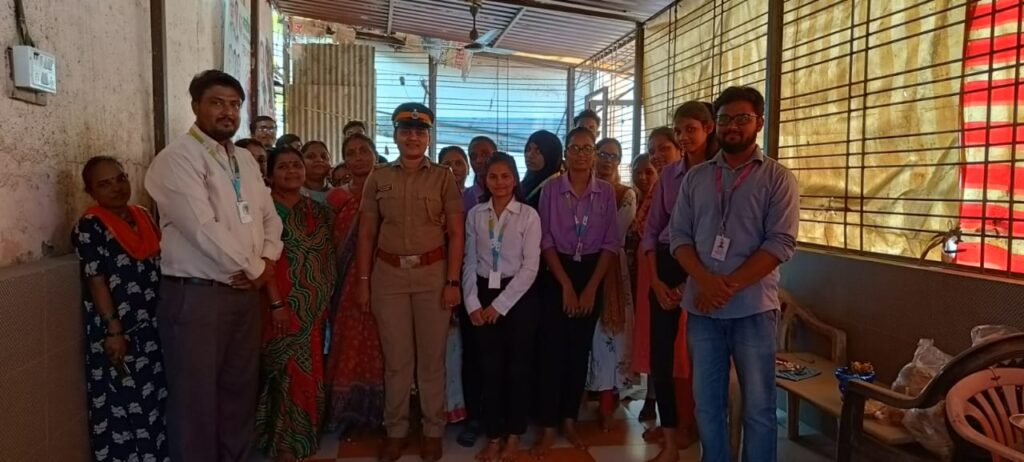 Adolescents from Kalwa (Thane) scripted and performed a street play, titled 'बंधनों को तोड़ेंगे, ऑनलाइन पढ़ेंगे (We will break the barriers, we will study online), which highlighted the gender norms prevalent in our society while accessing online education, and do's and don'ts while using social media. In Kandivali (Mumbai), Ms Sheetal Gaikwad, Police Sub-Inspector at the Kandivali police station, spoke to women from the community about the measures taken to ensure their safety in the area. We also organised games such as musical chairs and gaana tambola and meaningful discussions on gender equality, in Dharavi.
Our Community Action Group members and Adolescent volunteers from Govandi and Mankhurd (Mumbai) participated in the Annual Anand Melawa, where they presented their passion to dream, believe, empower, and create a change within themselves and within the community. The Brihanmumbai Municipal Corporation and Integrated Child Development Services staff and police officials from the Nirbhaya Unit of Deonar Police station participated and guided the volunteers. This event gave them an opportunity to reflect, nurture and develop hidden talent through street play, dance, singing, skit, shayari, and drawing competition.
The global pandemic COVID-19 has brought forth the power of digital media and the existing digital divide. A new form of inequity is evolving and it is imperative to stem it with innovative solutions. And once again, it is the women who can lead the way!
#IWD2023 #PowerOn #DigitALL
---
[1] National Family Health Survey (NFHS) 5 (2019-2021)
[2] Women's mobile phone access and use : A snapshot of six (6) states in India, Dvara Research, 2021
---
---
Share: